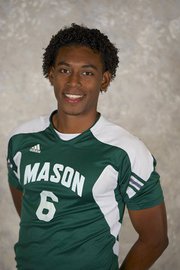 MYLES YORKE
Myles, a senior, has played and started in all of Radford's (Highlanders) games this season. The Highlanders record stand in overall league play at 7-8 and in Conference play at 5-3. This has given #2 ranked Radford a straight semifinal berth into the Big South Championship. They get a bye for the quarter finals. Their opponents in the semifinal will be #3 Presbyterian College.
This season, Myles has also had the honour of making his first appearance/selection on the All Star Big South Second Team. Great job Myles! 
Best of luck to Myles and Radford in their semifinal encounter.
https://radfordathletics.com/