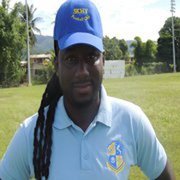 Keon Phillip
( Coach )
Keon was born and raised in Laventille where he first became interested in football. He moved to Sangre Grande at the beginning of Secondary School and later to Arima where he live presently.
At the age of 11, he joined the Skeene/ Hyacenth Football Club, now SKHY Football Club and was among the early recruits at the club.
Under the direction of the highly qualified and dedicated coaching staff he was able to quickly improve his skills. Keon was awarded Most Valuable Player (13 – 16) category on two occasions as well as other prizes during SKHY's Easter and Summer Camps. He also represented SKHY in the Eddie Heart and North Zone Leagues Open Men's Division from age 15.

The skills acquired at SKHY enabled him to gain a scholarship to Lafayette College, Easton Pennsylvania after competing against several top INTERCOL standouts. At Lafayette College (2003 – 2007), he was able to compete at a very high level and assisted the team to capture two (2) Patriot League titles. Being a member of SKHY Football Club prepared him for his athletic obligations but also allowed him to be mentally prepared to endure the pressure of performing academically as well while being away from home.  Keon graduated with a B.A Economics and Business with a minor in Architecture earning Academic Bronze medals for athletic GPA above 3.0.

"At SKHY I was taught discipline, respect, team work and most importantly to me, to never give up. I am more than happy to give back to the youth of the club and hopefully help them achieve much more than I have. SKHY truly meant learning is winning. Today I am a proud winner and I continue to win because of what SKHY has helped me achieve." 
- Keon Phillip