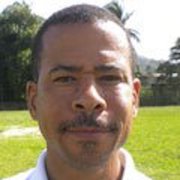 Dexter Skeene
( Co-Founder & Director )
Co- Founder and Director of SKHY.
In addition to coaching at SKHY, Dexter coaches at several primary and secondary schools throughout Trinidad and is also the current CEO is the national Professional Football League.
He was Head Coach of the Trinidad and Tobago National Women´s Football Team for the period 1996-1998 and also a member of the National Coaching Advisory Committee of the Trinidad and Tobago Football Association (TTTFA).
Dexter qualified at the top of his class while obtaining the International Preliminary Coaching Certificate (English F.A. Coaching Badge). He has extensive experience in coaching in the U.S.A. to locally at club level. He has also attended the sports science Seminar and the F.I.F.A Goalkeeping Coaching course.

Dexter represented Trinidad and Tobago at both Junior and Senior level from 1982-1993 on more than thirty occasions (including World Cup Qualifiers). He also played for St. Mary´s College and Maple Sports Club. While pursuing a B.A. Degree in Economics he represented Columbia University (first division NCAA) where he became an All-American and Senior Bowl participant.