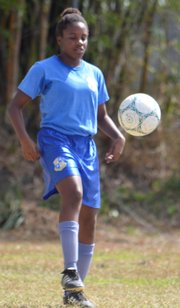 Selene Smart
Date of Birth:18-05-2000
Football Club: SKHY FC
Secondary School: Bishop Anstey High


What position do you currently play?
I currently play as a forward, be it striker or winger.


What international team do you follow?
I follow Barcelona.


Who is your favourite player locally and internationally?
My favourite player locally is Kennya Cordner and internationally it is Neymar.


What is your most preferred food?
I love pasta, Lasagne to be more specific.


What would you consider your proudest achievement?
When my school won the North Zone competition in 2015 is my proudest achievement.


What are your strengths as a footballer?
 My strength in football is my finishing (shooting).


Where would you like to see yourself in the next five years?
I would like to be playing for the National Senior Team in five years.